Paint Brush Holder Plastic Store Wet Brushes (3 Pack)
Paint Brush Holder Plastic Store Wet Brushes 1/2-3 Inch 30 Days DIP LLC (3 Pack)
BEST: Best product out in the market to store wet paint brushes, NO LIMITATIONS

PURPOSE: Prevents wet paint brushes from drying between coats without clean-up for >30 days, scoop little extra paint on bristles when storing and store it in room temperature conditions and flat position for longer storage vs. vertical.

AIR TIGHT: Holder snaps to completely to cover the brush (without any openings) to provide super air tight seal, so wet brushes stored inside will last longer.

DURABLE: Has vertical post to secure the brush when stored. No foam seal to close the opening, therefore this product is super sturdy and lasts longer.

NO LIMITATION: One size holder fits all brushes, ranging 1/2 to 3 inch size brushes of different shapes and lengths (short hand, long hand, angled brushes), and not limited by the size of the opening.

RIB FEATURE: Rib across on bottom and top covers of holder is provided to keep the brush slightly tilted (vs. flat), so when storing it offers an excellent support to maintain brush bristles shape. The ribs also provides a convenience to take paint brush in and out of the holder.

ONE SIDE LABEL: Product label is only on one side, so you can see the brush status from other side, so if needed you can scoop little extra paint on bristles for longer storage.

Saves time and money & great for environment

Made from chemically resistant polypropylene PP plastic resin

AIR TIGHT, STURDY and durable plastic design

Super easy to store, snap shuts instantly offering convenience when storing

Conveniently easy to wash to reuse it again

Color is (translucent to) clear plastic; Size: length: 14.5″; width: 4″; height: 1″

Patent status is pending, and made in the USA product

Listing is only for paint brush holder, paint brush shown will not be part of your order

Rusting is a concern when storing paint brush for longer, so watch for it, and always test it before using it on your project. 
Paint brush holder's patent pending design provides AIRTIGHT seal and DURABLE product. Now it is super easy to store paint brushes, solving painter's night mare. Because of brush holder's airtight design without any openings, you can store paint brushes, without any fears of wet brushes from drying out. When you need to go for an errant, or if suppose overnight or weekends, just scoop little extra paint on bristles, and place it inside and snap shut to close the holder, when you comeback, you will be ready to resume your job, without any fears of paint brushes getting dried out. We suggest that you try it yourself for your project requirements.
No more wasting time (unnecessarily) on washing paint brushes. This is environmentally friendly option, with no wasting of water or washing off of harmful paint chemicals down the drain. Now you can store your top quality Sherwin Williams, Wooster Pro, Blue Hawk, Purdy, and many other branded clean and dry brushes as well without any fears of them getting damaged. One size holder fits variety of brushes from sizes ranging from 1/2 inch to 3 inch and different sizes and shape. You can easily wash the paint brush holder when required. It is a handy product for Pro Painters, DIY projects, and home owners, and must have painting supplies item. This product design will not fit paint rollers.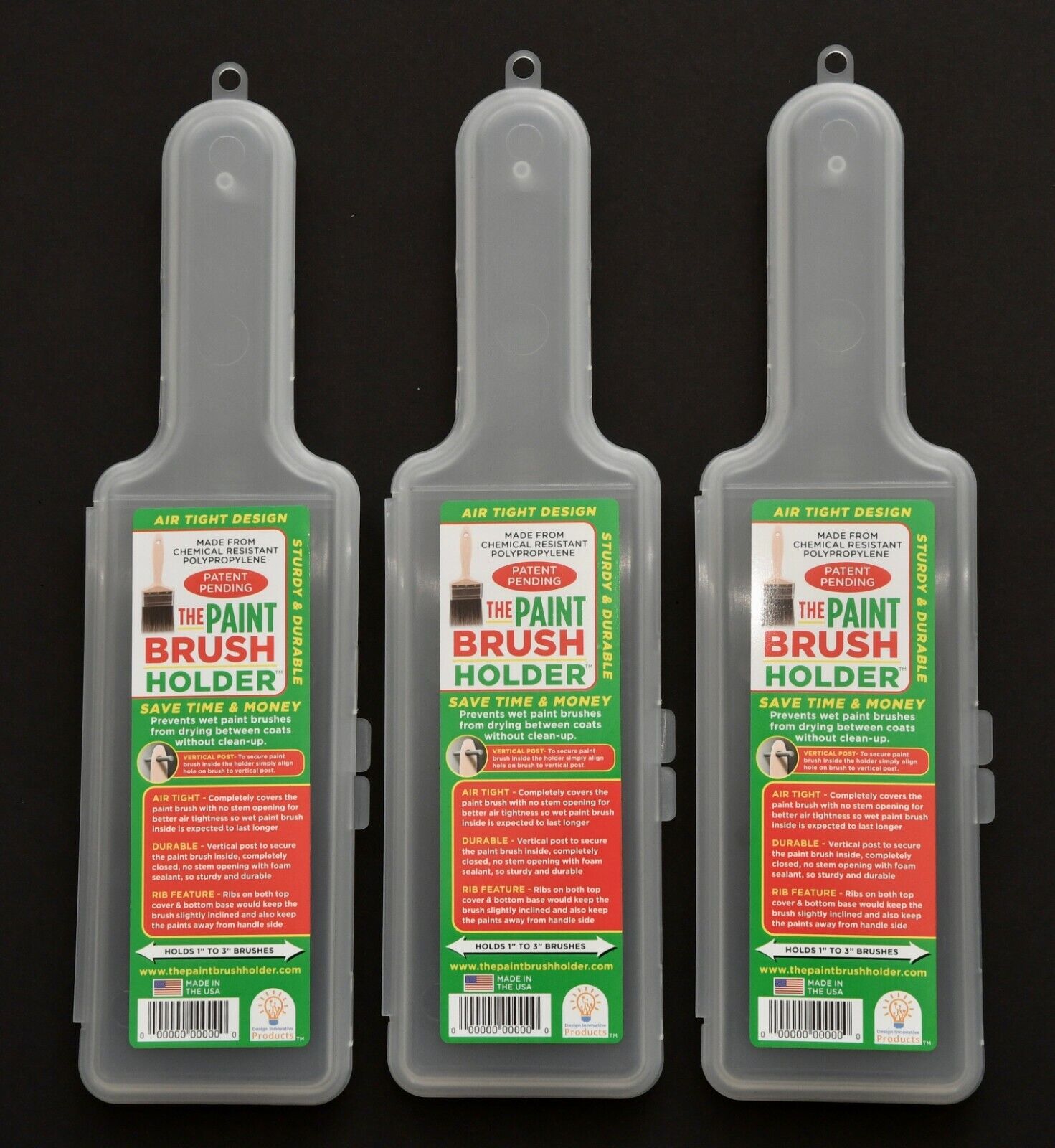 Description
Condition:

New: 

A brand-new, unused, unopened, undamaged item in its original packaging 

Country/Region of Manufacture:
United States
Brand:

Design Innovative Products LLC

Number in Pack:
3
Items Included:
Holder
MPN:

Does Not Apply

UPC:

860001300826